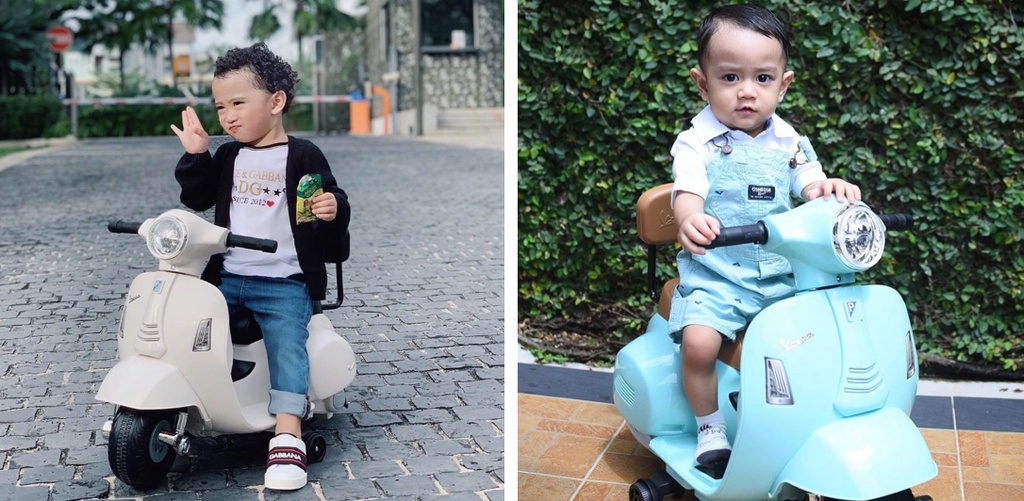 *IMPORTANT* PLEASE READ BEFORE PURCHASE
THIS IS 100% ORIGINAL LICENCED VESPA PRODUCT WITH MALAYSIA CONFORMITY (MC) MARK ISSUED BY KPDNHEP OR MONEY BACK GUARANTEED! BUY WITH CONFIDENCE! ENJOY GENUINE WARRANTY AFTER SALES PART & SERVICE!
The original Mini Vespa Electric Ride-On Scooter for Kids is made to look like daddy's GTS Vespa scooter in both style and color. Little ones will love the flashing headlight as they drive and play. This Mini Vespa Scooter's electric consumption is nothing to be concerned about; with a full charge of the battery, your child is able to ride this electric scooter for kids for up to 60 minutes of run time.
With just a step on the pedal, your child will be able to 'drive' their first Vespa scooter that's powered by electricity. This is not just a normal vehicle that is controlled by parents, this is fully operated by your child. Riding by themselves promotes cognitive and motor skill development as they learn how to manoeuvre in different directions and avoid obstacles. As your child learns and grasps how to use it, it also encourages parent-child bonding time.
Remember, only the original Mini Vespa scooter has EN safety standards and an MC sticker that shows it has been tested and certified. Always use original products from authorized dealers that cover the warranty for guaranteed quality.
𝗙𝗲𝗮𝘁𝘂𝗿𝗲𝘀:
Official Vespa logo, sticker & badges
Up to 60 minutes run time with every full charge
Minimum charge once a week to maintain tip-top battery condition
Equipped with built-in rechargeable 6V battery
Equipped with original 6V charger
Equipped with security alert horn
Equipped with guarded side wheels for balancing
Equipped with beaming white lights while running
Equipped with baby backrest support for younger child
Adult Assembly Required (screwdriver needed)
𝗦𝗽𝗲𝗰𝗶𝗳𝗶𝗰𝗮𝘁𝗶𝗼𝗻𝘀:
European Standard: EN71
Weight: 5kg
Assembled dimension: 30 x 65 x 52cm
Top Speed: 2.5KM/H
Full Charge: 9-10 Hours
𝗔𝗰𝗰𝗲𝘀𝗼𝗿𝗶𝗲𝘀:
Charger adaptor
𝗥𝗲𝗰𝗼𝗺𝗺𝗲𝗻𝗱𝗲𝗱 𝗨𝘀𝗲:
18 months to 36 months (max limit 25kg)
𝗪𝗮𝗿𝗿𝗮𝗻𝘁𝘆:
6 months warranty on manufacturing defect
Caution
Adult close supervision required to reduce the risk of injury
Strictly forbidden to use on roadways, near motor vehicles, slopes or swimming pools and areas where there is water.
Please wear shoes when operating vehicle
Only to be used by one person at a time
Keep away from children before assembly as there may be sharp edges or small parts
To avoid suffocation, keep in plastic bag away from children. Dispose all bags immediately upon opening the box
Protective equipment should be worn. Not to be used in Traffic.
Regularly check the battery, charger, wire, plug, casing and other parts are damaged; if damages occur, please cease to use this product until it has been repaired.
Keep away from fire
This product instructions shall be kept as they contain important information.
Youtube [CLICK HERE]
Interested? You may contact us! [CLICK HERE]