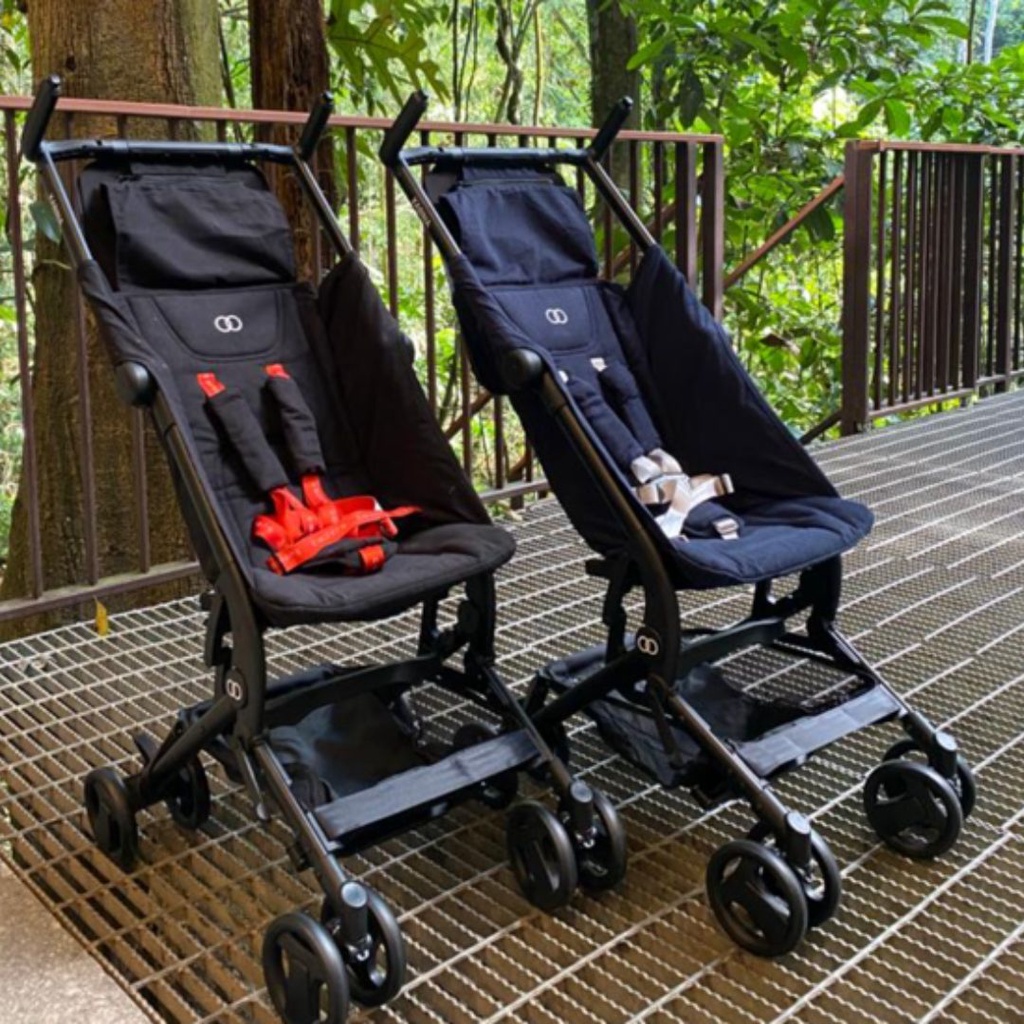 Koopers Kabina is an absolute travel essential for modern parents, providing total convenience without compromising on comfort or style. Whether you're on holidays, exploring the latest urban hotspot, or simply on the move, Kabina is perfectly in tune with the needs of modern parents.
The double wheels suitable for all-terran and were cleverly designed to allow parents to confidently manoeuvre on different surfaces throughout their day. Its ultra-compact folding mechanism reduces the stroller to a laptop size that is airplane hand luggage compliant—making it perfect for exploring new places, near or far.
𝗙𝗲𝗮𝘁𝘂𝗿𝗲𝘀:
Laptop size folding stroller!
Improved second generation mechanism
Adjustable zipper for laying and upright positions
Sporty 5-point body harness system for maximum protection
Sun canopy to avoid direct sunlight
Pedal link brake system
Enhanced front wheel suspension
Upgraded brushed cotton fabric that is soft on skin
Double wheel stability (8-Wheeler)
Medium-sized shopping basket
𝗦𝗽𝗲𝗰𝗶𝗳𝗶𝗰𝗮𝘁𝗶𝗼𝗻𝘀:
European Standard: EN1888:2018
Weight: 5.7kg
Assembled dimension: 44 x 70 x 100cm
Folded dimension: 38 x 18 x 50cm
Backrest height: 44cm
Seat width: 28cm
Seat length: 24cm
𝗔𝗰𝗰𝗲𝘀𝘀𝗼𝗿𝗶𝗲𝘀:
Complimentary: premium travel backpack
𝗥𝗲𝗰𝗼𝗺𝗺𝗲𝗻𝗱𝗲𝗱 𝗨𝘀𝗲:
6 months up to 15kg (sitting position max 20kg)
𝗪𝗮𝗿𝗿𝗮𝗻𝘁𝘆:
1 year warranty on manufacturing defect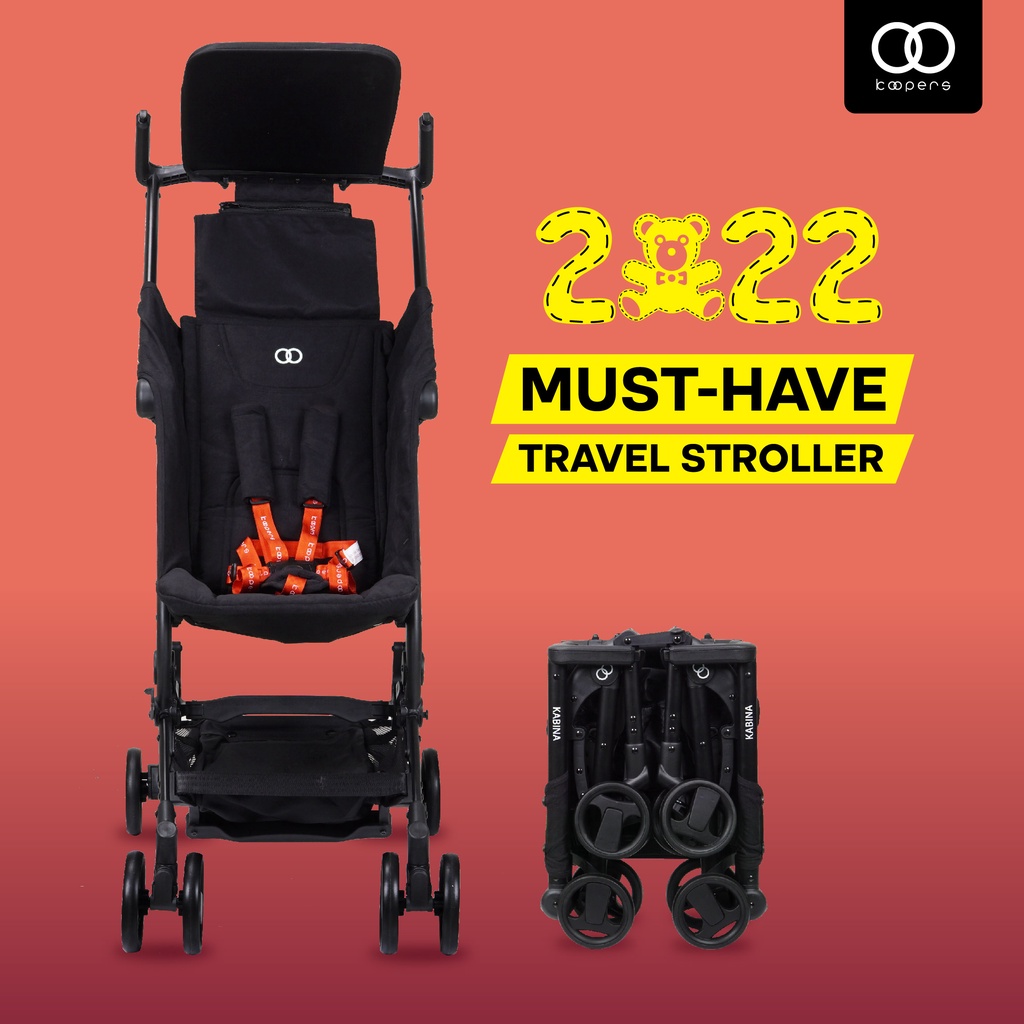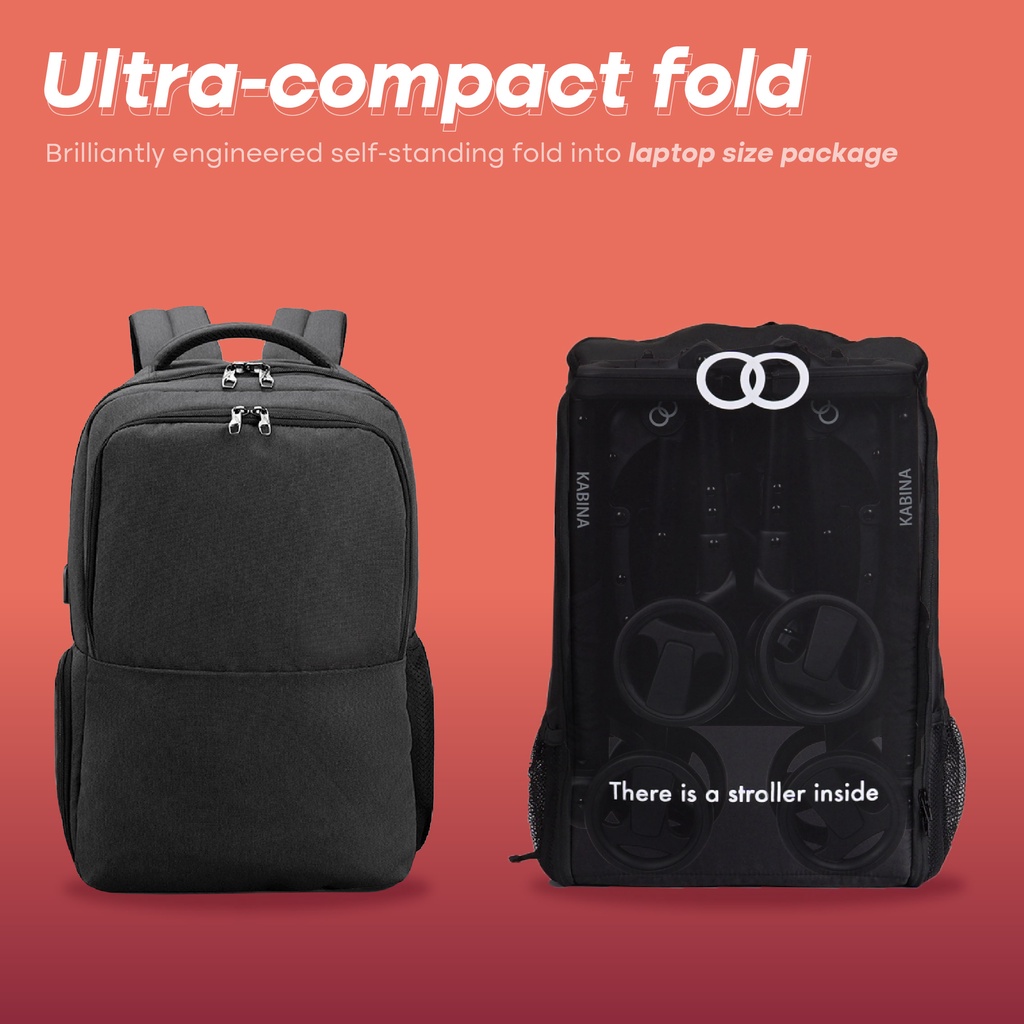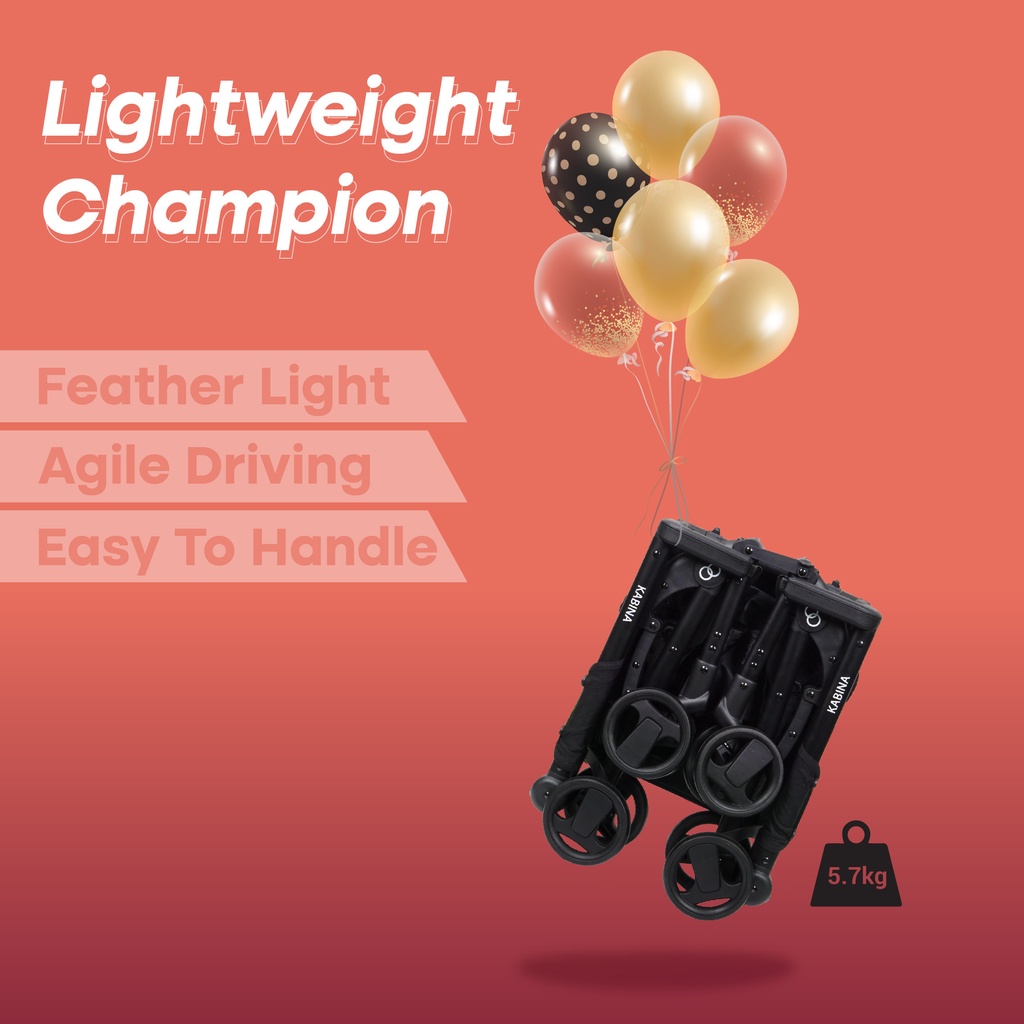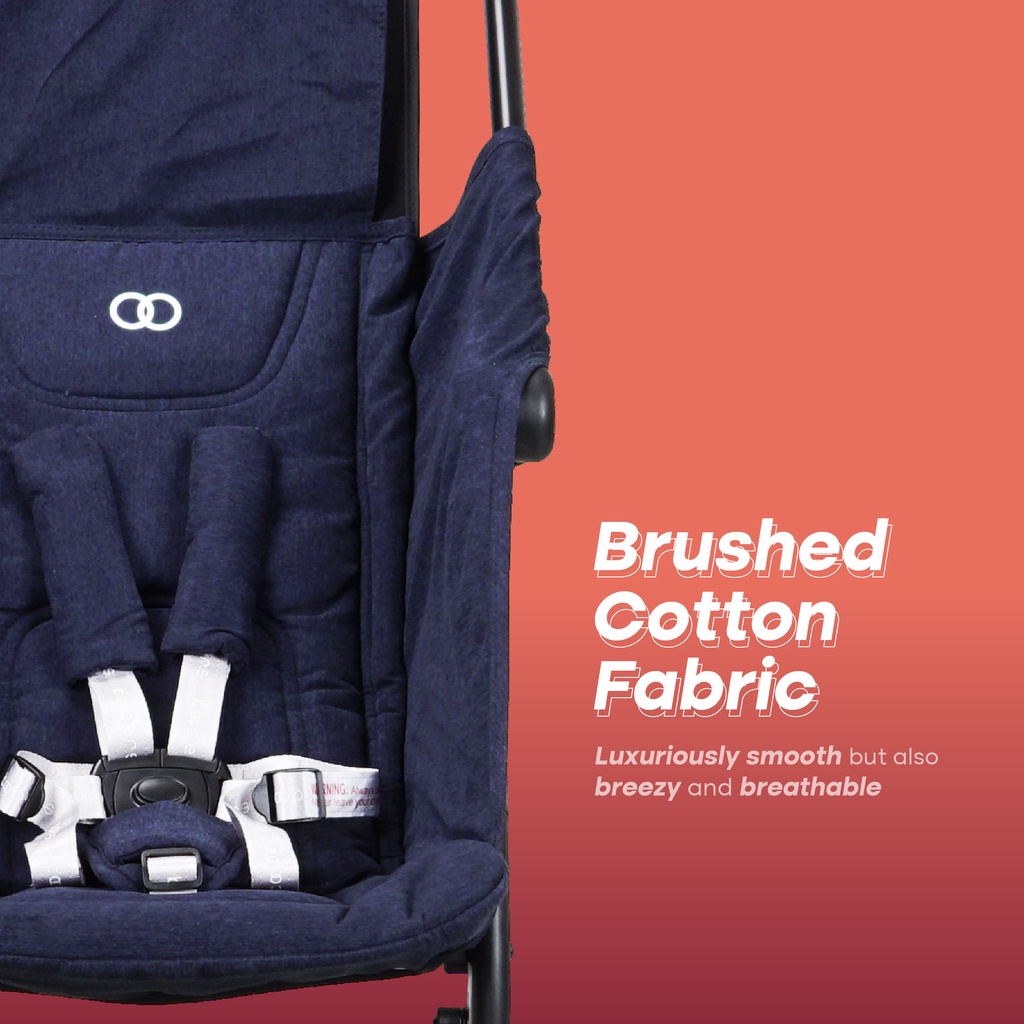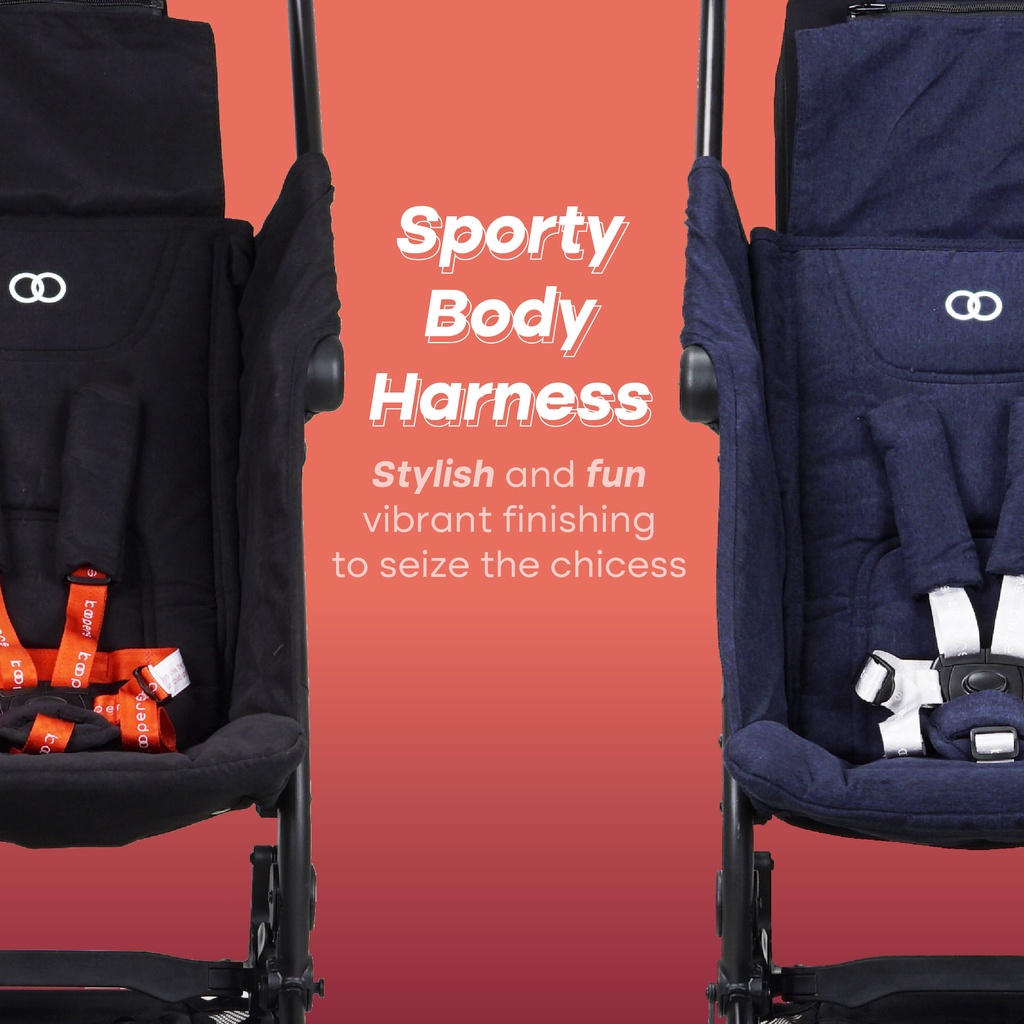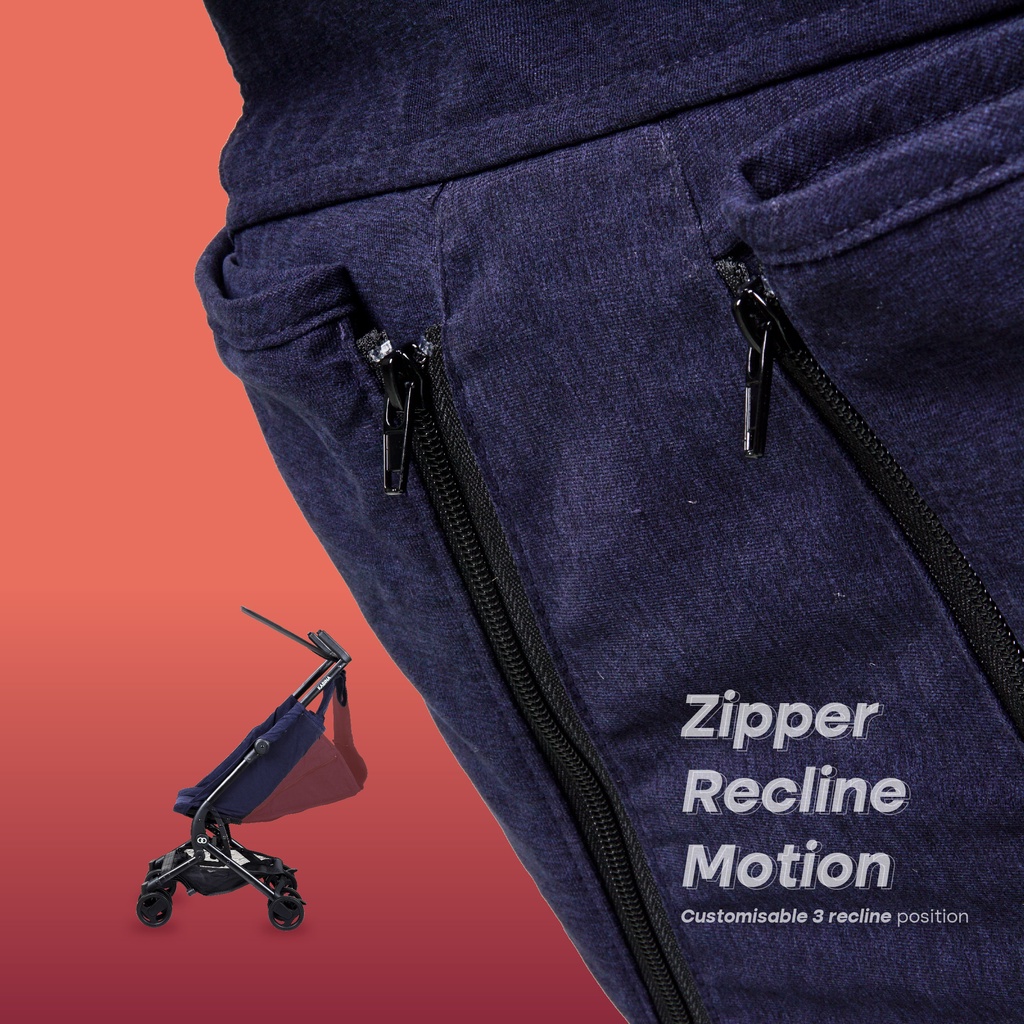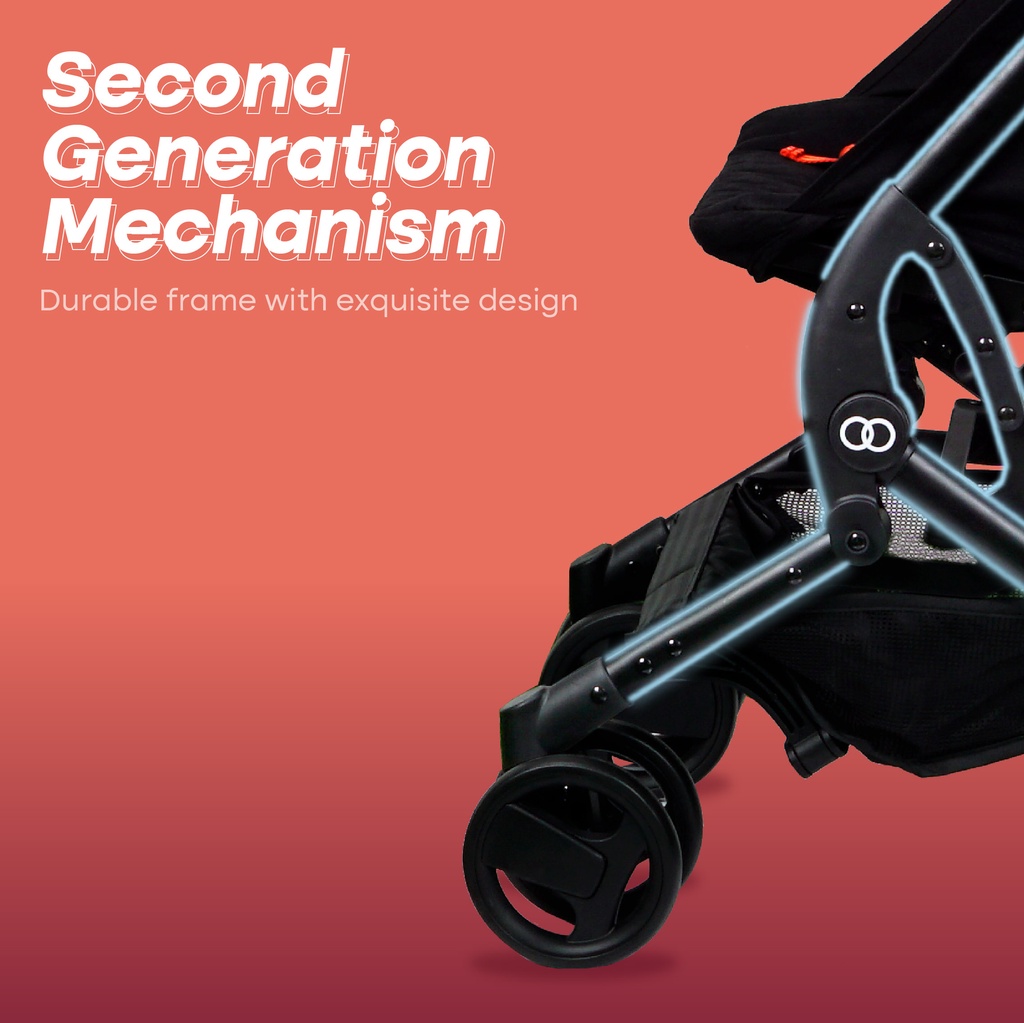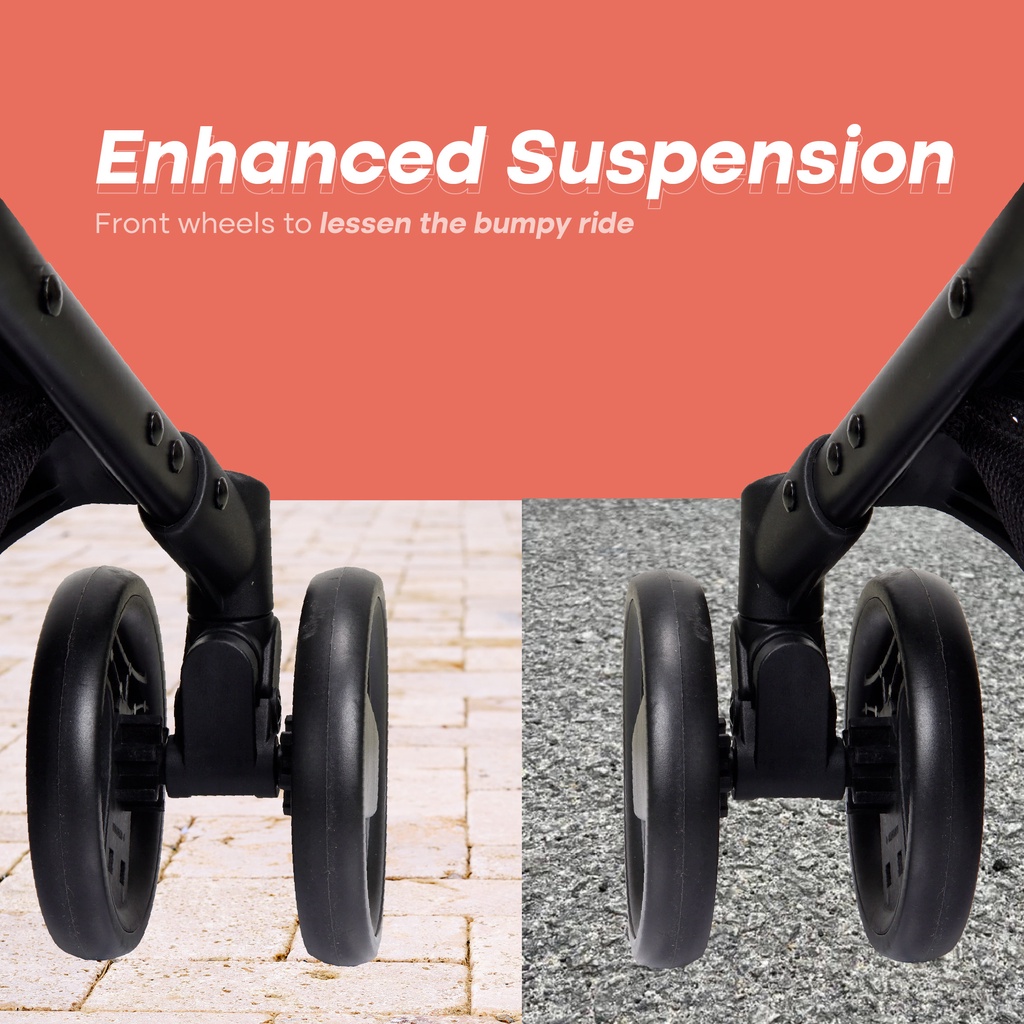 What should I consider when buying a stroller?
A safe, reliable and easy-to-use stroller is a definite must-have. But as a stroller can range in price from RM199 to upwards of thousands of Ringgit, you're going to want to make sure you're getting the best option for your money. These basic questions can help.
Where will you use it? Many mid-range models can be big and bulky — not ideal if you're navigating narrow city streets. But a smaller umbrella stroller might not work for you if you need a stroller basket big enough to handle your purse, diaper bag and other essentials. Know where you'll go with your stroller — that's half the battle.
Is it newborn friendly? Check the details. Some strollers offer a deep recline or bassinet mode, which means you can put your newborn in them from day one — with no add-ons needed. But many models are more suitable for infants who have some neck control or can nearly sit up unsupported, which usually doesn't happen until month 6. You may need to attach a car seat or optional bassinet to make some models infant-ready, so know what you're getting before you buy.
How long do you plan to use it? While you may pay more up front for certain models, adaptability from newborn through toddler stages could save you cash in the long run. Do you plan to use the same stroller for multiple kids? If so, shop for long-term value, and consider a model you can add onto — a car seat, a stand-and-ride bumper, or an additional seat for a new baby.
How easy is it to use? Once you've done some research and narrowed down your choices, it's smart to do a test drive in person, so you can see how your favorites compare — and consider that a flat and shiny store floor may not reveal how a particular model will do on uneven sidewalks or hilly terrain. Can you steer it smoothly? Can you maneuver it with one hand? How does it handle a tight turn?
How easy is it to fold and unfold? You'll likely be holding baby — and more — when you need to fold or unfold the stroller, so easier is better. Many models tout a one-hand fold, but try before you purchase — not all one-handed folds are as easy as they sound. There's also the Autofold stroller (Example : Automi+) that's really convenient which folds with just a push of a button.
How heavy is it? When you're on the road, lighter is better. But note the details, because some manufacturers will call a 15 KG stroller lightweight, while others can weigh a mere 8KG. If you live in a city, for example, that can be a big difference when you're carrying a baby, a diaper bag and a stroller up endless staircases or squishing onto the subway.
Do you need more than one? Perhaps you'd prefer to have an umbrella stroller for the road, but a full-sized model for busy days in the neighbourhood. For some families, one stroller just doesn't cover all the bases, no matter how cleverly designed. If that's the case, consider splitting your stroller budget rather than investing heavily in one. You might need a basic full-size model for home and a separate umbrella stroller for travel.
Come check out our Youtube [CLICK HERE]
Interested? You may contact us! [CLICK HERE]