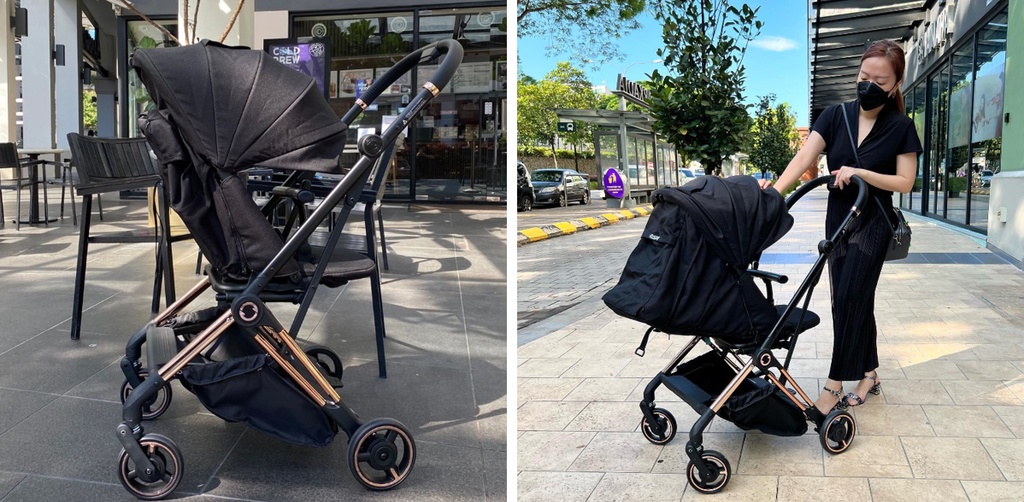 Our 2-Way Facing (360-Degree) Stroller
Our Innospin X is the upgraded version of the popular Tavo Innospin stroller. Even though it has all the great features of the first generation, the Innospin X takes it to the next level by adding the much-desired auto-fold feature, a carry handle, and more gold finishing on the frame structure, giving it a touch of elegance. 
Now, you can stroll in style in this 2-way facing stroller while bringing your child to any function, from daily walks to shopping malls, parties, and events. 
This 360-degree stroller allows you to unlock and spin the seat in any direction at any time. If you have a toddler who needs to see the world around them, or if your newborn is ready to start taking in their surroundings, just turn the seat and watch as they take it all in. 
𝗙𝗲𝗮𝘁𝘂𝗿𝗲𝘀:
1 second AUTO-FOLDING mechanism
360 degree spinning seat for two-way facing
Unlock and spin the seat for different facing
Full recline for newborn position using free style strap
Easy folding and stand-alone after fold
5-point harness system to keep your child safe
Adjustable and extendable canopy
Adjustable leg rest to suit baby's comfort
Removable signature-T bumper bar
Centralised pedal link brake system
4-wheel suspensions for comfort sitting
Magnetic peekaboo window
SMART-Air ventilation system
XL shopping basket
High maneuverable wheel suspension, stable on all type of terrain
𝗦𝗽𝗲𝗰𝗶𝗳𝗶𝗰𝗮𝘁𝗶𝗼𝗻𝘀:
European Standard: EN1888-2:2018
Weight: 9.7kg
Assembled dimension: 54 x 80 x 104cm
Folded dimension: 54 x 33 x 68cm
Backrest height: 44cm
Seat width: 30cm
Seat length: 21cm
𝗔𝗰𝗰𝗲𝘀𝘀𝗼𝗿𝗶𝗲𝘀:
Complimentary: travel bag and cup holder
𝗥𝗲𝗰𝗼𝗺𝗺𝗲𝗻𝗱𝗲𝗱 𝗨𝘀𝗲:
Newborn to 5 years old (0-22kg)
𝗪𝗮𝗿𝗿𝗮𝗻𝘁𝘆:
1 year warranty on manufacturing defect