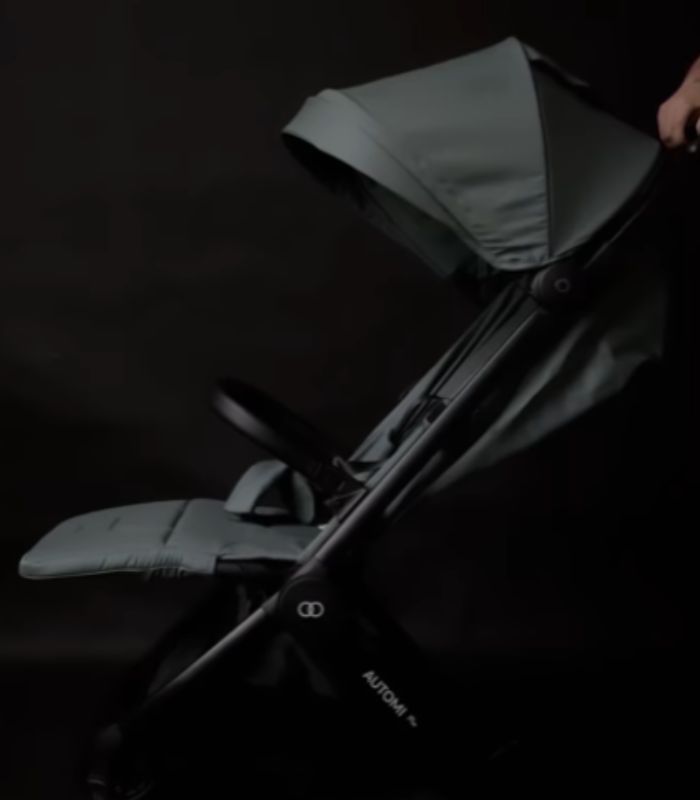 Lightweight Travel Stroller
Koopers' third-generation auto-fold stroller is now bigger and lighter! The frame mechanism, design, weight, and comfort of this baby stroller have all gotten better since the last one. 
When the safety button is unlocked, the Koopers Automi Pro folds itself into a small, easy-to-carry package that stands up. Even though it fits in a small space, this full-sized, lightweight stroller can be used from birth until the child is a toddler. It is easy to use and steers with just one hand. 
This travel stroller also has a deep recline feature that allows your baby or toddler to take naps while out on walks or car rides.
𝗙𝗲𝗮𝘁𝘂𝗿𝗲𝘀:
1 second AUTO-FOLDING mechanism
Cabin-sized and travel-friendly
Full recline for newborn position using clip
One hand easy folding and standalone after fold
5-point harness system to keep your child safe
Adjustable and extendable canopy
Adjustable leg rest to suit baby's comfort
Removable leatherette bumper bar
Centralised pedal link brake system
4-wheel suspensions for comfort sitting
Wider and thicker seat cushion
Eco-friendly fabric with higher thread count
Magnetic SMART-Air ventilation system
UPF 50+ extendable sun canopy
XL shopping basket
High maneuverable wheel suspension, stable on all type of terrain
𝗦𝗽𝗲𝗰𝗶𝗳𝗶𝗰𝗮𝘁𝗶𝗼𝗻𝘀:
European Standard: EN1888-2:2018
Weight: 6.6kg
Assembled dimension: 48 x 80 x 105cm
Folded dimension: 50 x 30 x 63cm
Backrest height: 48cm
Seat width: 35cm
Seat length: 23cm
𝗔𝗰𝗰𝗲𝘀𝘀𝗼𝗿𝗶𝗲𝘀:
Complimentary: travel bag and cup holder
𝗥𝗲𝗰𝗼𝗺𝗺𝗲𝗻𝗱𝗲𝗱 𝗨𝘀𝗲:
Newborn up to 5 years old (0-22kg)
𝗪𝗮𝗿𝗿𝗮𝗻𝘁𝘆:
1 year warranty on manufacturing defect
What should I consider when buying a stroller?
A safe, reliable and easy-to-use stroller is a definite must-have. But as a stroller can range in price from RM200 to upwards of thousands of Ringgit, you're going to want to make sure you're getting the best option for your moneys worth. These basic questions can help.
Where will you use it? Many mid-range models can be big and bulky — not ideal if you're navigating narrow city streets. But a smaller umbrella stroller might not work for you if you need a stroller basket big enough to handle your purse, diaper bag and other essentials. Know where you'll go with your stroller — that's half the battle.
Is it newborn friendly? Check the details. Some strollers offer a deep recline or bassinet mode, which means you can put your newborn in them from day one — with no add-ons needed. But many models are more suitable for infants who have some neck control or can nearly sit up unsupported, which usually doesn't happen until month 6. You may need to attach a car seat or optional bassinet to make some models infant-ready, so know what you're getting before you buy.
How long do you plan to use it? While you may pay more up front for certain models, adaptability from newborn through toddler stages could save you cash in the long run. Do you plan to use the same stroller for multiple kids? If so, shop for long-term value, and consider a model you can add onto — a car seat, a stand-and-ride bumper, or an additional seat for a new baby.
How easy is it to use? Once you've done some research and narrowed down your choices, it's smart to do a test drive in person, so you can see how your favorites compare — and consider that a flat and shiny store floor may not reveal how a particular model will do on uneven sidewalks or hilly terrain. Can you steer it smoothly? Can you maneuver it with one hand? How does it handle a tight turn?
How easy is it to fold and unfold? You'll likely be holding baby — and more — when you need to fold or unfold the stroller, so easier is better. Many models tout a one-hand fold, but try before you purchase — not all one-handed folds are as easy as they sound. There's also the Autofold strollers which is just a  click of a button and it will fold itself.
How heavy is it? When you're on the road, lighter is better. But note the details, because some manufacturers will call a 15KG stroller lightweight, while others can weigh a mere 8KG. If you live in a city, for example, that can be a big difference when you're carrying a baby, a diaper bag and a stroller up endless staircases or squishing onto the subway.
Do you need more than one? Perhaps you'd prefer to have an umbrella stroller for the road, but a full-sized model for busy days in the neighborhood. For some families, one stroller just doesn't cover all the bases, no matter how cleverly designed. If that's the case, consider splitting your stroller budget rather than investing heavily in one. You might need a basic full-size model for home and a separate umbrella stroller for travel.